Meet the lovely Alice – founder of Love Alice & Co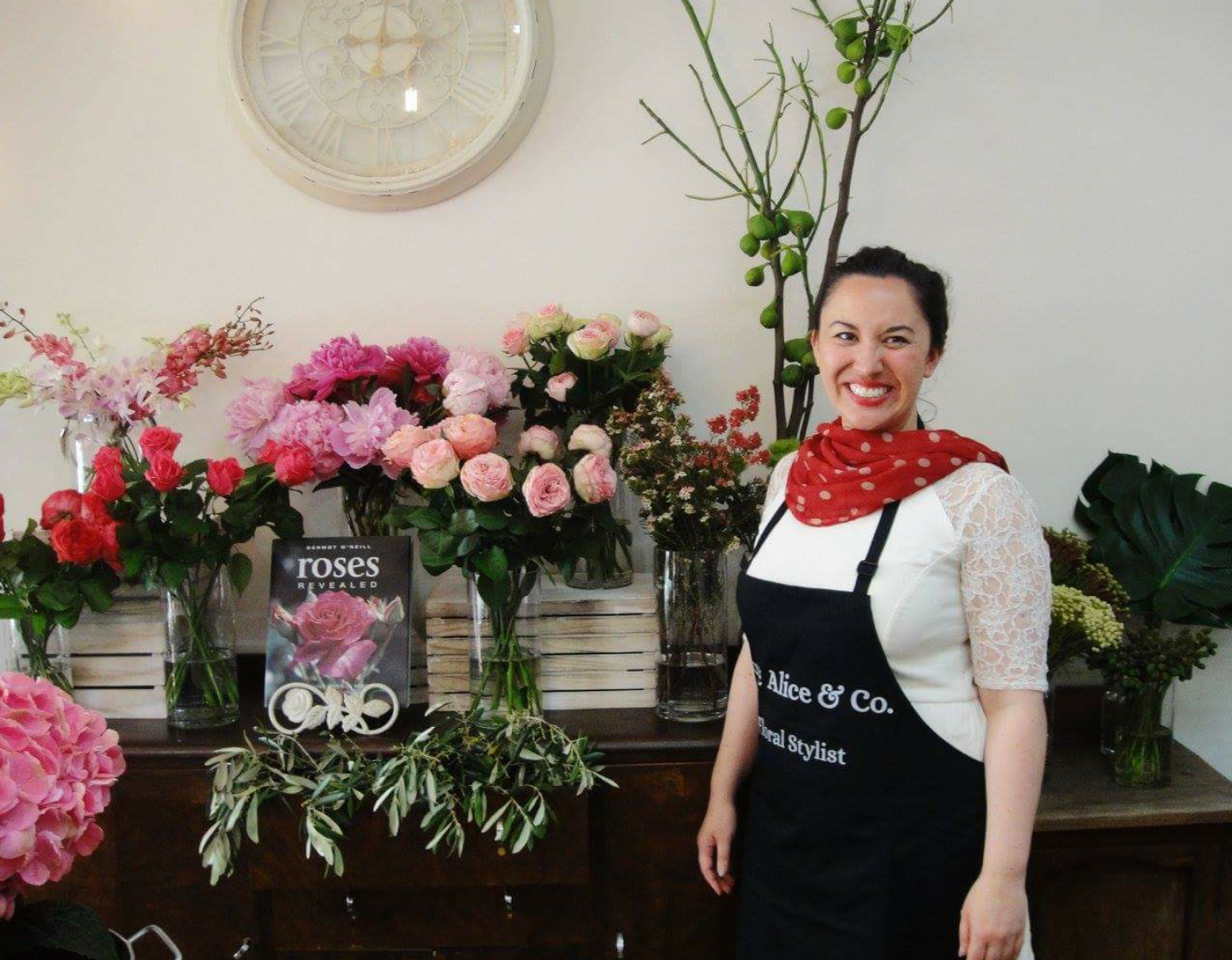 From School teacher to Florist, meet the lovely Alice founder of Love Alice & Co. An inspiring person with a big heart and a vision to match.
Floral Stylist: Alice Hall
Love Alice & CO.
What did you do before studying floristry?
Before studying floristry, I worked as a Primary School Teacher within multicultural schools across Melbourne. I had the privilege of facilitating an environmental program for children on Heron Island and have also worked in Recruiting and Business Development for leading organisations in the Health Sector. I have always enjoyed working with people and the opportunity to create hand crafted designs.
What inspired you to make the change to floristry?
My childhood is filled with an abundance of fond memories of the flowers growing at our family home. We had the most beautiful garden window in the kitchen, which looked out on to an arch in the front garden, with miniature pink roses cascading and meandering over it. The intricate detail of each petal and the vibrant colours that Mother Nature displays is breath taking. My Grandfather is a spectacular water colour artist and often paints various types of flowers. My family, are a very large and special part of my journey in launching Love Alice & CO.
I was inspired to make the change to floristry because I see flowers wherever I travel and am continually brainstorming new and exciting colour combinations and textures. When I personally deliver a bridal bouquet to the bride and see the look on her face, when I facilitate a workshop and hear someone say, "I can do this" and when the whole team stops for a moment, after we have set up for a wedding or special event, it is the best feeling, knowing we have made such a positive impact in the lives of others.
When people walk in to the Love Alice & CO. store, they say, "This is my space of zen," or "It is so relaxing and I feel so calm in here." "I am so happy we have something this beautiful within walking distance, they say with a big smile."
Why did you choose Bloom College?
I chose Bloom College as I had called many leading florists across Melbourne and all of them had spoken extremely highly of Bloom College. I knew I was very passionate about weddings and events and they highly recommended gaining contemporary experience at a private college such as Bloom, as the course is structured in a way that allows you to learn state of the art techniques that are relevant and up to date with what is happening in the industry right now. I also liked that you can take your floral creations home with you to practice with and learn about their vase life, what flowers are suitable for corporate arrangements, etc.
What does working with flowers give you that your previous career/s did not?
Working with flowers gives you the freedom to be creative every day. Flowers nourish the soul and there are so many areas you can be involved in such as weddings, events, consultations, creating corporate arrangements, shop management, accounting, business development, marketing, ordering, selecting from the local markets, travelling to beautiful destinations world wide and learning about the meaning of each flower, interior design, the principles of colour, texture, line, composition, movement, shape, balance, mood and meeting so many extraordinary people.
Tell us about your business, what are your core products? 
Love Alice & CO. specialises in weddings and events. Our store focuses on creating a personalised experience for our customers, where people can choose their favourite wrapping paper and the colour of ribbon or lace. We are a bespoke floral design studio so our clients can pre order their favourite types of flowers or colours of their choice and we will order them in especially.
What is your vision for the future of your business and or the industry?
My vision for the future of my business is to gain government funding for a school based incursion so children can learn the art of floristry as part of their curriculum.
I am also very passionate about supporting our Victorian growers in the floristry industry as the quality is superb, the flowers are not in transit for long so customers are able to enjoy their flowers for longer and it promotes a healthier work environment without the nasty chemicals.
Who inspires you? 
Family are my inspiration. My amazing partner will often assist me in conditioning every single flower and remove all thorns from roses. Our family have donated vintage furniture made curtains for my store and often assist with deliveries. My Uncle made a custom water trough and also a beam across the ceiling of the store to attach garlands to. My Mum is an absolute angel. She comes to every single wedding to help set up, pack down and is an inspiration!
My family have instilled the values in me that I hope to pass on to our children one day: "Everything and anything is possible if you dare to dream, believe it can happen and take steps each day towards that goal".
What is your preferred design style?
My preferred design style is wild and rambling, as though freshly picked from the garden, featuring textures which are unique and unexpected. I enjoy foraging across Victoria to hand select each individual bloom to ensure the highest quality and include elements which are special to my clients, such as the flowers their grandmother wore in her hair on their wedding day, or the flowers which symbolise the two cultures of the bride and groom. Love Alice & CO. is all about the details and creating from the heart.
When I was researching different fonts for my logo, the font I loved the most stood out due to the beautiful ampersand. I checked the name of our logo font and it is actually titled 'Alice.'
Instagram: @lovealiceandco
Facebook: www.facebook.com/lovealiceandco
Phone: 0478 808 292
Email: create@lovealiceandco.com.au
Store address: 18 / 37-39 Albert Road, Melbourne 3004